A wonderful large presentation basket with pierced work throughout and very fine details of bows, crests. By Wilhelm Binder stamped with: Moon, Crown, 800 WTB. This centerpiece was made in German using Continental 800 silver accompanied by it's original etched glass bowl liner, very small chip to one corner of glass.
ss943A midcentury sterling and wood handle water pitcher in the manner of George Jensen with grapes on base, Made In Mexico Stamp.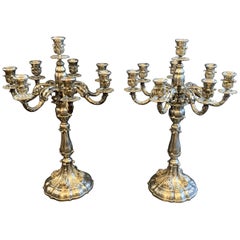 A wonderful pair of stamped Braganti Italy sterling silver plated heavy monumental 7-arm candelabra.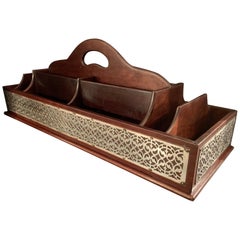 A rare Edwardian large black Starr & Frost mahogany and silver ormolu mounted, compartment letter holder / tray desk organizer.
A wonderful Theodore B. Star sterling silver large pierced footed centrepiece bowl
A monumental sterling silver centrepiece by Whiting marked on the under side sterling and model #4009 20", with pierced and blown out work with beautiful flowers cascading over the 20" bowl on stand, professionally machine polished with no dents or scratches or monogram.
A wonderful Tiffany sterling silver finely engraved round and footed serving tray or platter centerpiece.
Alphonse

La Paglia sterling silver modern covered box with unusual handle on the lid. Lovely vintage condition. Measures: 4" H x 3" W x 2.5" H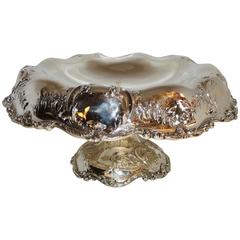 Bailey Banks and Biddle sterling centerpiece bowl # 2929.
In The Chrysanthemum pattern.
Measures: 12.5" W x 4.5" H.
Pair of Hessenberg 800 silver pierced rim bowls
with gold was in the neoclassical empire motif.
(circa 1900s).
Measures: 6.25" W x 3" H.
Redlich & Co. sterling silver footed floral pierced bowl centerpiece.
Beautiful footed pedestal with floral and scrolls.
circa 1920s.
Approximately 62 troy oz.
No Monograms.
A wonderful Bailey Banks and Biddle sterling silver 12.5" round bowl with beautiful fine etched design.
Marked
S 925 BBB
Bailey Banks & Biddle Co.
12.5" Round 1536.
Beautiful pair of Whiting Sheraton sterling silver pedestal compotes centerpieces serving dishes
Marked:
F. M. Whiting Trademark
Sheraton Sterling
368-70.
A wonderful set of Wallace sterling silver flatware eight place settings of grande baroque pattern with a total of 48 pieces and no monogram.
Set consisting of:
9" knife
6" knife
7 1/2" fork
6 1/2" fork
6" spoon
6 1/4" spoon.
A wonderful Tiffany & CO. Sterling silver centrepiece with branch's and vines for the open worked elevated base with elegant plain bowl.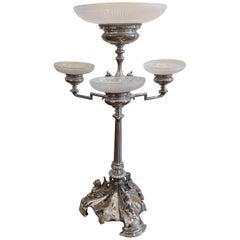 ce 194
A wonderful Elkington English silver plate lion epergne with 1 large center and 3 smaller side etched glass bowls centerpiece.

ss 951
Tiffany & Co. sterling silver centerpiece footed pierced bowl, with slightly turned over scrolling foliage and floral rim and four scrolled feet, circa 1901.
Measures: Approx. 3" height x 13 3/4" Dia. 32.525 troy ounces
ss 677
sterlinh silver judaica box by c. hoff .6inches by 6 inches by 5 inches