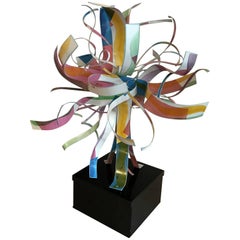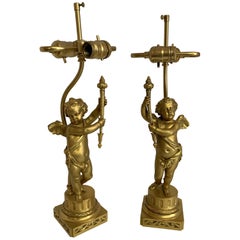 Italian sculpture, Fernando Cian (Ciancianaini 1889-1954) signed terracotta statue of three children at play. One is holding a tambourine, the others each have a cookie. The faces are endearing and the details in this piece, note the hair and curls, are examples of the Fine ability of Mr. Cian. This is a wonderful piece in good condition for display.
The size is 19" H x 14" L x 10" W.
A wonderful and fun Mid-Century Modern sculpture by the late Dorothy Gillespie Signed, "Starburst" Metal Art circa (1920-2012). Made of enameled aluminum ribbons in vivid colors set on a black plexiglas base. Stands approx. 15" round x 18" tall with base, in excellent condition and accompanied by her book displaying her amazing works of art.
Wonderful signed patina bronze sculpture by Juan Clara Ayats on an onyx base of two girls playing with a chair, Spanish artist (1875-1958).
A wonderful pair of French dore bronze winged cherub / putti figural sculptures holding torches converted into lamps.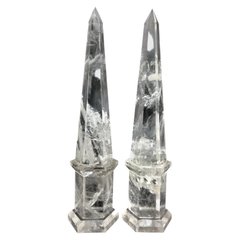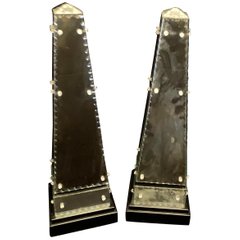 A wonderful large pair of octagonal cut natural rock crystal obelisks in the Mid-Century Modern style, very Fine detail standing 24" high x 5 1/2" wide.
A wonderful pair of Mid-Century Modern antiqued Venetian Italian mirrored obelisk.
A man and a woman, a couple about to exchange a kiss. Robert Rigot has taken a new look at the universal theme of love and designed two complementary sculptures for Baccarat.
Cut in two blocks of crystal by the artisans from Baccarat, the abstract profile of the characters takes shape and brings out the eyes, nose and lips on the verge of touching. Used as book-ends, the pair are separated, but still love one another from afar…